Special Characters:
Special characters must be converted to English characters
(examples: Ü, Æ, Ö, Ă). 
Spacing:
Be sure to leave spaces between your names, when listed on the passport.
Bin/Binte S/O,D/O:
Do NOT include any of these abreviations
Name Prefixes/Sufixes:
Do NOT list name suffixes (JR/SR/III) or Name Prefixes (MS/MR/MISS)
Apostrophes & Hyphens:
Include all apostrophes, except when there is a space on either side of the apostrophe.
(Example: O'Toole should be entered as is but 'Alofa should be entered as Alofa).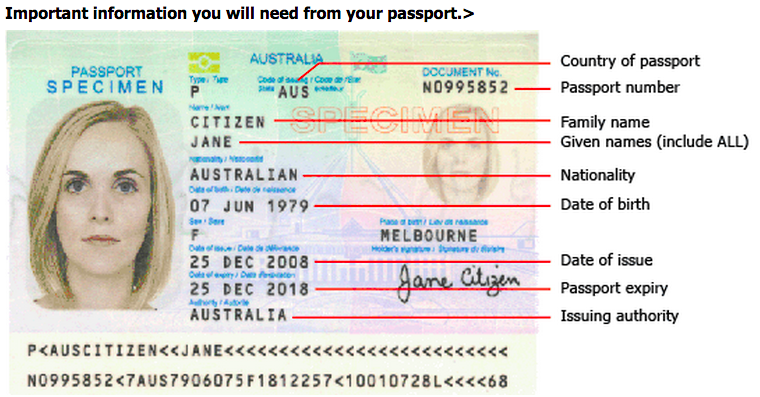 Indian Names
Do NOT include:
S/O (son of)

D/O (daughter of)

A/L or AL (anak lelaki)

A/P or AP (anak perempuan)

A/K or AK (anak kepada)

W/O
Family/Given Names
Given names are names appearing before S/O, D/O, A/L, A/P, A/K and W/O.

Family name are names appearing after S/O, D/O, A/L, A/P, A/K and W/O.
Examples:
K SUGUMARAN S/O KOLANTHAN
Family Name: KOLANTHAN
Given Name(s):K SUGUMARAN
GURDIP KAUR GILL D/O BALWANT SINGH
Family Name: BALWANT SINGH
Given Name(s):GURDIP KAUR GILL
Family Name: KAUR
Given Name(s):GURDIP
Malay/Muslim Names
Do NOT include:
Bin

Bte

Binte

Bt

B.

YB

Y.BHG.

Tunku

Haji

HJ

Hajjah

Y.A.M.

Y.M.

Tan Sri

Ungku

Pengiran
Examples:
Name change after marriage where you have adopted your spouse's full name
MRS ABRAHAM ELIAS NEE REUBEN YAHYA MATILDA
Family Name: REUBEN
Given Name(s):YAHYA MATILDA
AHMAD BIN HAJI ABDUL MANAN
Family Name: ABDUL MANAN
Given Name(s):AHMAD KAUR GILL
UNGKU ZARINA BTE UNGKU ZAINAL ABIDIN
Family Name: ZAINAL ABIDIN
Given Name(s):ZARINA
Chinese Names
Format Rules:
If you have a Western style name appearing first in your passport, then the Western style name should be input first in the given names field (see example below).

Do not input alias names, Hanyu Pinyin or names in brackets (see examples below).
Examples:
LILIAN TAN SU LIN
Family Name: TAN
Given Name(s):LILIAN SU LIN
MR TOCK PENG POEY @ MUHAMMAD ALI
Family Name: TOCK
Given Name(s):PENG POEY
WILLIAM HO CHEE CHAN (WILLIAM HE JIZAN)
Family Name: HO
Given Name(s):WILLIAM CHEE CHAN
TANG CHOON KOON NEE CHIA POH KIM
Family Name: CHIA
Given Name(s):POH KIM
Western Names
Format Rules:
Do not include titles such as Mr, Mrs, Miss, Ms.

Do not include descriptions such as Jr, Junior, Senior, II, III, IV

Enter whole names only

If your name in your passport has non-standard English characters in it such as Umlauts (Ü - letters with dots above them) or diacritic markings (Ó - letters with accents above them), use the English spelling of your name in the Machine Readable Zone of your passport (see example above).
Examples:
MR CHARLES TOLES JR
Family Name: TOLES
Given Name(s):CHARLES
MR CHARLES TOLES III
Family Name: TOLES
Given Name(s):CHARLES